Ava Gardner was a huge star from the late 1940s onwards—and had the fabulous wardrobe expected of stars at the height of Hollywood's "Golden Age". Frank Sinatra was no slouch in the fashion department either, with a rakish style of his own. Her form-fitting gowns and cocktail dresses and his snappy suits, hats and classic tuxedos make for a great "Get The Look" double-feature!
Ava Gardner's third marriage was to singer and actor Frank Sinatra. After he had been seeing her "on the side" for some time, Sinatra eventually left his first wife, Nancy, for Ava and their scandalous marriage made headlines. His fans, gossip columnists Hedda Hopper and Louella Parsons and the Hollywood establishment all disapproved of Frank leaving his wife for "femme fatale" Ava. This tumultuous meeting and eventual marriage of two huge stars was sometimes described as "The Voice" (Frank) meets "The Shape" (Ava).
Ava Gardner described their relationship as very tempestuous. 'We were high-strung people… possessive, jealous and liable to explode fast. When I lose my temper, you can't find it any place. He's the same.' Tempers aside, there were also other problems, with infidelity and alcoholism adding to the volatile mix that was their marriage. They were forever breaking up and then getting back together, first separating in 1953, although they did not actually divorce until 1957.
Although their marriage failed, Ava has been described as the love of Frank's life and was also the inspiration for one of his most personal songs, "I'm a Fool to Want You". For many years after their break-up, Sinatra kept a photo of Ava taped to his dressing room mirror. The couple remained good friends for the rest of Gardner's life. She never married again. She said to an actress friend "that she never loved another man as much as she loved Frank."
Stylish, star-crossed lovers, indeed…
YELLOW BROCADE 1950's DRESS offered by
Proper Vintage
Clothing
Vintage 1940s French Tuxedo available at
Poppy's Vintage Clothing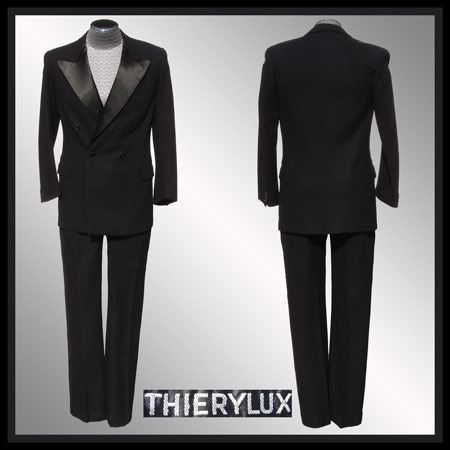 Vintage 50s Cat Eye Sunglasses Rhinestones from
The
Spectrum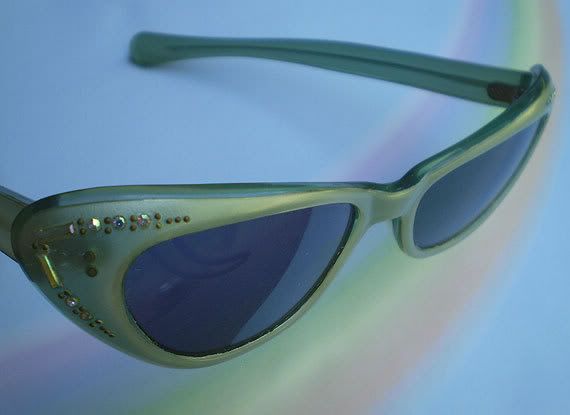 You can find more fabulous vintage items from more sellers at the
VINTAGE FASHION GUILD WEEKLY FASHION PARADE!