Sweater Girl Knits
Made popular in the 40s and 50s by actresses like Lana Turner and Jane Russell, sweater girl knits are dressy, feminine styles which look just right for cooler weather.
Whether your style is rockabilly, burlesque, Old Hollywood, or just plain vintage-loving, look for cardigans, pullovers and sweater suits from the VFG.
1950s Blue Beaded Lambswool Cardigan Sweater available at
Daisy Fairbanks

Fine wool crimson 1950s twinset (cardigan not shown) from
Circa Vintage Clothing
Vintage 50s DALTON Beaded Cashmere Sweater available at
Couture Allure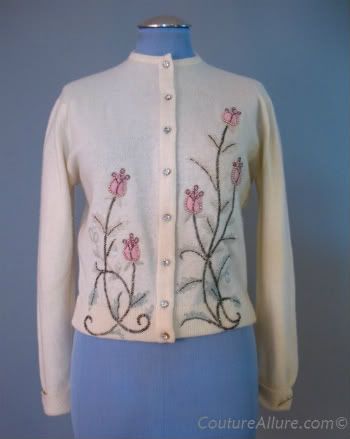 You can find more fabulous vintage items from more sellers at the
VINTAGE FASHION GUILD WEEKLY PARADE!