Skirt! Whether a skirt on its own or the skirt of a dress, skirts are defined by their silhouette. As confusing as it seems to be on the surface, it truly is as simple as looking at the line of the piece as it falls from waist to hemline. Some basics....
The circle skirt. Why is it called a circle skirt? Because it IS a circle! If there is enough yardage to a skirt to lie it flat on the floor and have it form a complete, round circle.....guess what. Its a circle skirt. If it doesn't, its not! A great example from VFG member FAST EDDIE'S RETRO RAGS....
The full skirt. This skirt is often confused with and refered to as a circle, but is not actually made of a full circle of fabric. It is full, beginning at the waistband...and more often than not would have been worn with some kind of crinoline. Some examples....
From VFG member WYOMING VINTAGE....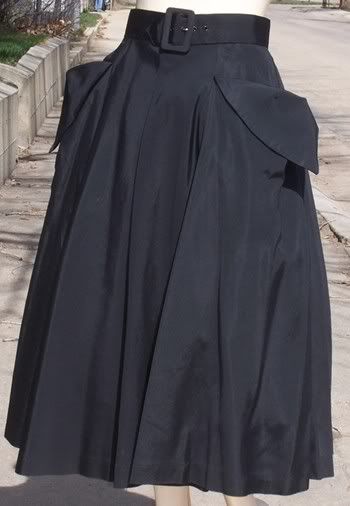 From VFG member HATFEATHERS VINTAGE....
The pencil skirt. Again, think shape. Does it LOOK like a pencil? Thin shape, straight lines (aside from where filled out by some curves!)? Here's a hint...if it flares, is full, has swing in it....not a pencil. Here's a great example from VFG member DENISEBRAIN.....
Check back to learn more about the world of skirts!