Contributed By:
premierludwig
Discuss this Post:
VFG Public Forums
Peggy Moffitt was the famous model, muse and collaborator of 1960s LA designer Rudi Gernreich. She was born in California in 1939, the daughter of screenwriter Jack Moffitt (his credits include the 1955 Disney documentary "The African Lion" and the Cary Grant film "Night and Day") and attended the exclusive Marlborough School for Girls til the age of 15, working at the Beverly Hills Jax boutique in the evenings. She attended a drama school in New York for two years where she trained in dance and theatrical arts, returning to Los Angeles where she made her 1955 film debut in"You're Never Too Young".
In 1958 she fell in love with a photographer named William Claxton who shot a photograph of her for the Chett Baker Jazz LP "Something for Both Ears" and they married in 1960. William had been photographing fashion designs by Rudi Gernreich since 1956 and two years after her marriage Peggy started working for Rudi as a model.
Fame came in 1964 when Peggy wore Gernreich's infamous topless bathing suit, the "monokini'', and the two continued to work together for many years. She was not only his model and inspiration but also his collaborator, working with him as an equal on designs and shows.
Peggy modeling some of Gernreich's designs: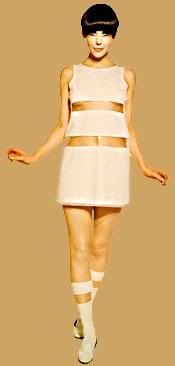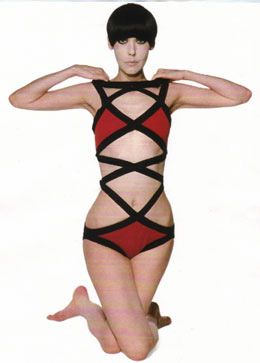 When he died aged 63 in 1985 Peggy held the trademark on Gernreich's name, and in 1999 she allowed an exhibition of Rudi Gernreich's designs to beheld, even modeling them herself. Peggy had decided that "Rudi absolutely changed the vocabulary of fashion... The world has picked at his bones for years, and I want him to be acknowledged for what he did" and decided that releasing his designs back into the market was the best way to do this.
She signed a deal to re-create his designs with avant-garde Japanese designer Rei Kawakubo who was the designer of the Comme des Garcons label. Working together with full access to Gernreich's archives they prepared a collection of items which were launched 2003. In July the line was introduced when Comme Des Garcons began selling a series of T-shirts displaying Peggy's image, then Peggy Moffitt range of pop art shirts and trousers went on sale that September.
One of the t-shirts from the introductory range: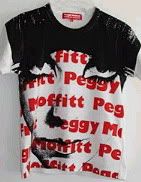 The drummer and lead singer from Chicago rock band
The Handcuffs
who have just recorded a song about Peggy Moffitt. Lead singer Chloe F. Orwell is wearing one of the shirts from the introductory range of the Peggy Moffitt label.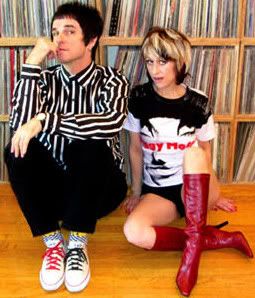 "I have devoted most of my professional life to Rudi Gernreich... I believed totally in his talent and had the great privilege of knowing him as a dear friend. Through the years we developed as a team. One of the great signs of his genius was that he allowed me to express my talent fully .We had indescribable fun together and shared the romance of creativity and collaboration".